Sunderland 0-2 Leicester City
The same blunt instrument; the same sucker punch. People are reading Leicester City's (ital)modus operandi(close) like a book, yet still no one can touch them. By a combination of supreme self-confidence, mutual intuition and adherence to a very simple script, they are closing in on the title now.
Their confidence is the most significant aspect because when an entire side believe they can do anything, their challengers have a very serious problem. "Each and every player is playing with more consistency than they have known in their life," Sunderland manager Sam Allardyce reflected of Claudio Ranieri's side last night. "It's not two or three but all of them. They don't seem to put a foot wrong…" Jamie Vardy had not scored in open play since Liverpool were put to the sword in early February and his attempts to put that right in this game's first half were utterly forgettable: a misguided header and a fluffed volley. Yet as he ran onto the 40-yard pass that Danny Drinkwater had lifted into his path just beyond the hour, with Younes Kaboul on his shoulder, there was only ever going to be one outcome: his 21st goal of the campaign
Kaboul had been the game's outstanding player at that stage, yet was reduced to the status of a spectre – as was Patrick Van Aanholt when the jet-heeled Englishman advanced to double the advantage at the death.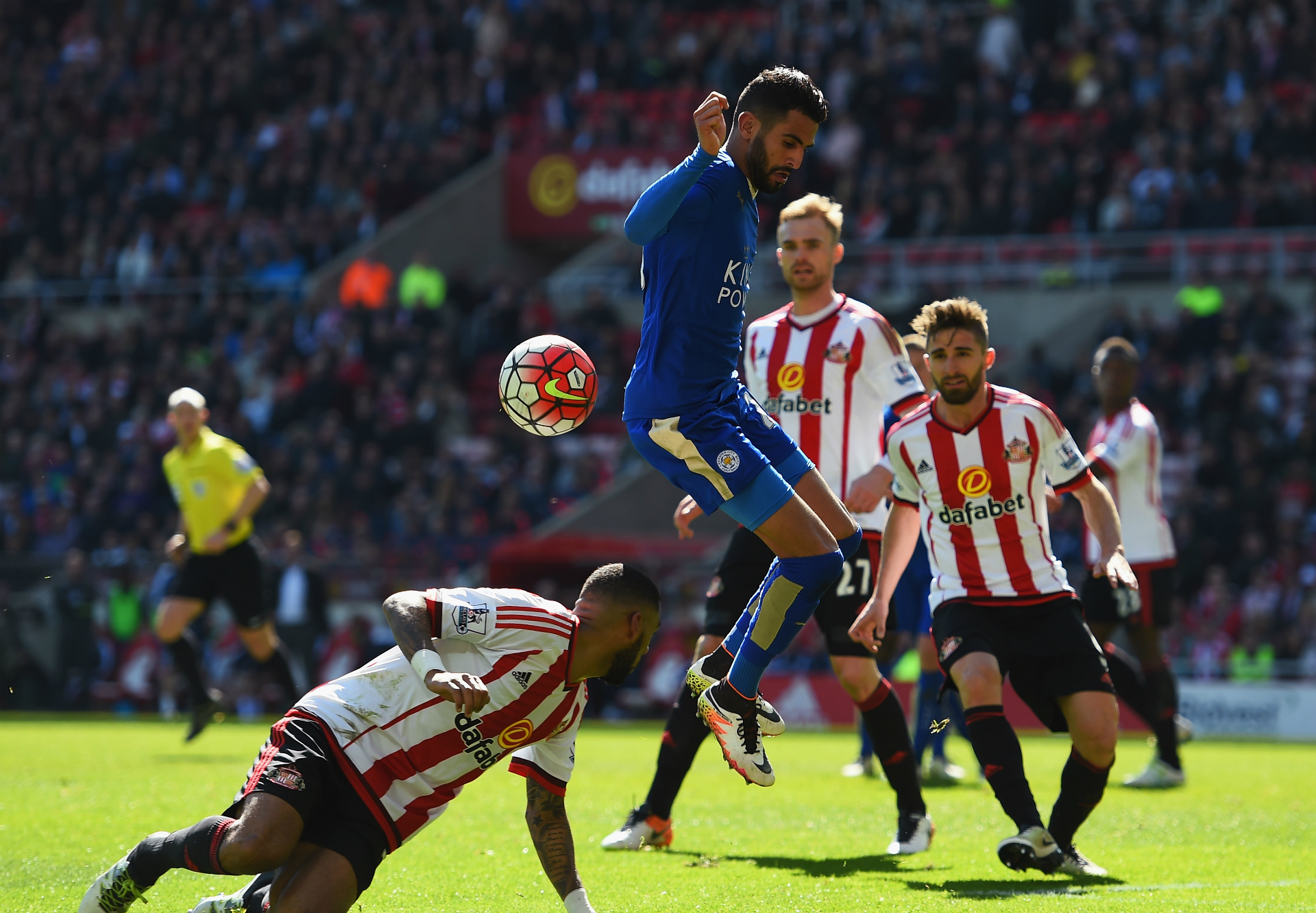 Leicester manager Claudio Ranieri is saying all the right things about complacency yet even he could not disguise a few tears on the pitch this time. He claimed that seeing an "old lady in a Leicester shirt" from his seat on the team bus had brought home the emotion. Arriving on the brink of Champions League qualification must have helped, too.
With a Leicester title beginning to look more likely than not, the mutterings are starting about this fairytale representing an incarnation of football which is less than beautiful. Allardyce talked, slightly negatively, of Leicester being "unique in that they don't have to be pretty and play in a certain way." Of how: "fans at bigger clubs might moan about them playing the 'right type of football.' "
Somewhere along the line, tackling has vanished from what is supposedly 'the right type of football' though it should not. Lamie Kone's demonstration of the art, delivered with timing and aggression without going to ground, was a necessary component of Leicester's game as Allardyce's side recovered from a difficult start to get the better of the first half. The creative axis of Shinji Okazaki, Marc Albrighton and Riya Mahrez – shipping the ball from defence to attack within seconds – revealed technical intelligence, too. Their football belied that idea that Leicester are only a route one team, despite the nature of the two goals.
Sunderland's performance added to the significance of the win. For an hour, it was not obvious which of the sides was 42 points ahead of the other. Kaboul and Lamine Kone defended implacably in the teeth of Leicester's rapier counter-attack. Jan Kirchhoff, marshalling the side from in front of defence, offered more evidence of how wise Allardyce's Sunderland buys have been. Only Jermain Defoe looked off colour. The delicate balance of power made it a deeply absorbing first half: as good as football gets, despite the lack of star dust individualists.
But Allardyce was left to rue missed chances. Kaboul lifted a header over from a Fabio Borini cross as Sunderland reached their best at the end of the first half. A penalty was also denied them in that melee. Robert Huth's hand stopped the ball as he slid down to intercept Van Aanholt's low cross.
Then, after Leicester led, a criminal miss. Jack Rodwell saw Patrick van Aanholt's shot blocked into his path but lifted the ball high and wide as he fastened onto it. "A turning point," Allardyce called it, and the game seemed over for Sunderland, then.
Asked what his side – four points from safety with a game in hand – must do next, Allardyce replied: "Don't lose at Norwich [next week.] They're seven points clear if we lose." Ranieri's saod the task is: 'Next match, next match, next match. Come on. Keep going." His players will hear him.